Rightangled Overview: Actionable Insights from DNA and Lifestyle Analysis
When it comes to meeting your diet and fitness goals, you can't rely just on your genetics or just on your lifestyle. The most successful plans will be a combination of the two. Enter: Rightangled.
From what I've seen – and from what you'll read here – this seems to be a pretty accurate assessment of what this company is and does. You submit a DNA sample and fill out a lifestyle questionnaire, your results are reviewed by professionals, and your report includes an 8-week training plan with self-improvement recommendations.
In 2017, Rightangled's Heart DNA test was seed-funded by the UK's world-renowned National Health Service (NHS). Rightangled also boasts about being the only DNA testing company that is regulated by the Care Quality Commission, which is the independent regulator and inspector of all healthcare services in England.
But just how much does this company deserve to brag? What are its advantages and where could it do some improving? I'll share the highlights and lowlights of my personal experience.
How Rightangled Works
Although based in the UK, the company ensures worldwide shipping and return of their tests.
I was pleasantly surprised when the kit arrived at my UK address. The packaging is sleek and compact, cleverly designed to fit right through the letter slot, so you won't miss its delivery. Once I removed the outer shrinkwrap, I noticed that the box serves as a convenient return package as well, complete with a prepaid label already attached. Inside, you'll find just three components: a plastic tube containing a cheek swab and a concise set of instructions.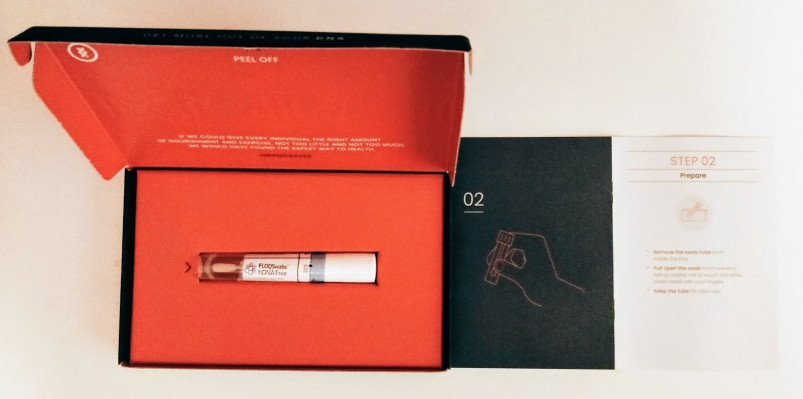 Many DNA companies make the sample collection process too complicated, with lots of individually wrapped components to disassemble and then to try to reassemble after following the complex collection instructions. In comparison, Rightangled takes the right approach to simple sample collection.
Before you collect your cheek-swab sample, you'll be prompted to register your test kit and complete a comprehensive online questionnaire. This questionnaire covers a range of topics, so be prepared to invest some time in filling it out. It's divided into sections like General Questions, which inquire about details such as your height and weight, Fitness Questions, assuming you engage in exercise, and Heart Questions, including whether you're aware of your cholesterol levels and blood pressure.
Once you've completed the questionnaire, you'll gain access to the dashboard where your results will be displayed after you've collected and sent in your sample.
Rightangled Products and Services
Rightangled has a few diet and fitness tests to choose from. The information is all tiered, which means the report from the Intolerance Test is also included in the Fitness DNA Test; and all of that information (plus the Heart DNA Test report) is bundled in the Wellness Pro report. Let's take a look at each in turn.
Intolerance Test
Out of all of Rightangled's diet and fitness tests, this is the most basic. That said, there's still plenty of useful information that can help you live a healthier life.
Firstly, you'll receive Body and Weight Management results (such as appetite, energy metabolism, sugar sensitivity, and glucose regulation). Similar to what we saw in the Heart DNA Test, you'll first get a recap of what you wrote in your questionnaire. Afterward, you'll discover whether you are more or less likely to experience certain conditions.
Knowledge is power. And discovering whether you could be predisposed to excess eating or lower energy metabolism could help you pinpoint the issue that is keeping you from losing weight.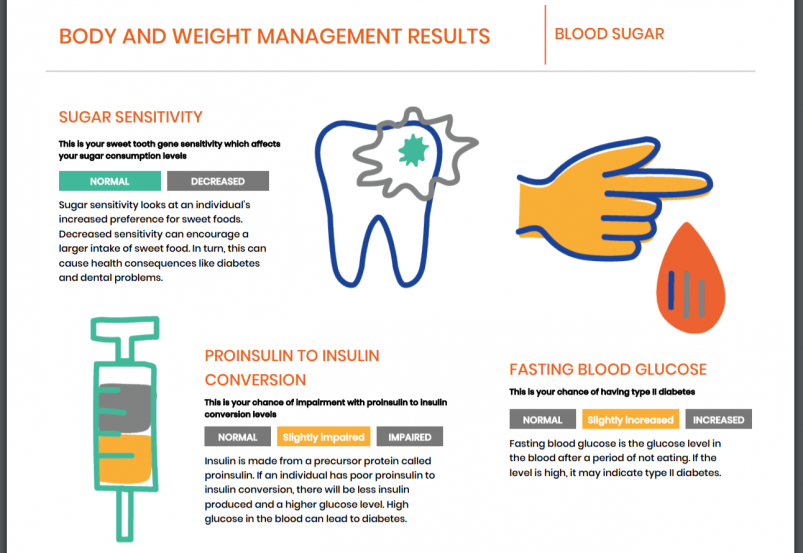 The Intolerance Test also includes Diet and Nutrition results, which tell you if you have sensitivities to things like caffeine, lactose, and alcohol. Again, the level of information is fairly basic but can be enlightening. For example, if you've been having digestion problems, this test could provide the answer as to why.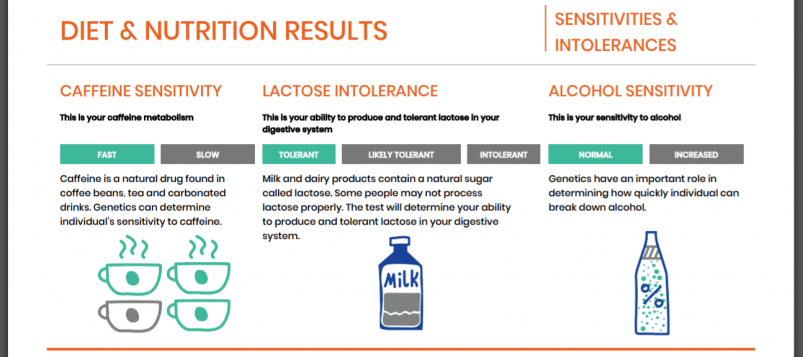 Fitness DNA Test
This test includes the same information from the Intolerance Test, plus some extras. The Exercise Response Results section, for example, focuses on your muscles and tendons, letting you know the best workouts and recovery exercises for your body.
Just like a cardiologist reviewed my heart health report, a personal trainer reviewed my fitness results. Perhaps the most valuable portion of this section – in my opinion – was the eight-week diet and exercise plan that was put together just for me.
The results were definitely helpful and based both on my personal goals and my genetics. That said, the recommendations weren't as specific or directive as some of the others that I have seen. For example, DNAfit's "genetically guided training programs," suggest actual exercises.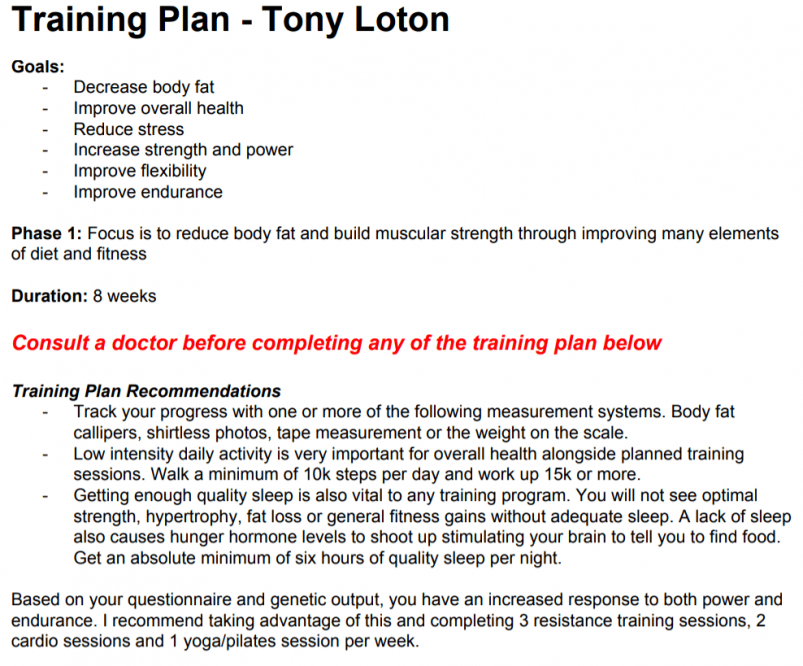 Wellness Pro
I took the Wellness Pro test, which combines all of the elements of the aforementioned tests (i.e., Heart DNA Test, Intolerance Test, and Fitness DNA Test).
Since I've already gone over each of those tests in detail, there isn't too much to add here. I would just note that it is possible with each of the tests, to book follow-up consultations with cardiologists, general medical practitioners, or personal trainers who have partnerships with Rightangled.
Rightangled Pricing: Wellness Pro Is the Best Priced Test
Rightangled's individual tests – the Intolerance Test, the Fitness DNA test, and the Heart DNA test are already priced pretty competitively compared with direct competitors, such as DNAfit and Vitagen-X. All of which will cost at least $100.
In my opinion, the real value is found in the Wellness Pro test, which combines elements of all three individual tests at hardly any extra cost.
Typically, it's only health-related DNA tests that can be wholly or partially paid for by medical insurance, so – in this case – it's only the Heart DNA kit that could be covered. Rightangled is partnered with a leading medical insurance provider, Bupa, so that doctors can request the Heart DNA test by sending a referral letter.
If you don't want to go for the all-inclusive option at the outset, the other tests do allow you to "unlock other reports at any time" without having to take another test, but obviously not for free.
Rightangled Customer Support: One Question Was Answered, One Went Unanswered
Rightangled prides itself on the quality of its aftercare, which takes various forms. Your results are reviewed by relevant professionals who consider your lifestyle factors as well as your DNA analysis, and you can book follow-up consultations with appropriate medical or fitness professionals via its portal.
Although this company's website is informative, there are only a few frequently asked questions for self-support and the blog isn't updated as regularly as I would like. However, visiting Rightangled's Facebook page reveals additional ways to contact the company by telephone, email, and other methods.
After sending in my sample, and before being notified of the results, I engaged with a member of the support staff via the live chat feature to ask a couple questions. Specifically, I wanted to know when my results would be ready, and if I could upload my 23andMe raw data in the meantime.
Note that it doesn't appear that you can upload raw DNA from 23andMe anymore.
Initially, it looked like I would be answered by a bot, which asked for my email address. But then – surprisingly since it was before 9 am in the company's UK location – I received an almost immediate reply from an agent.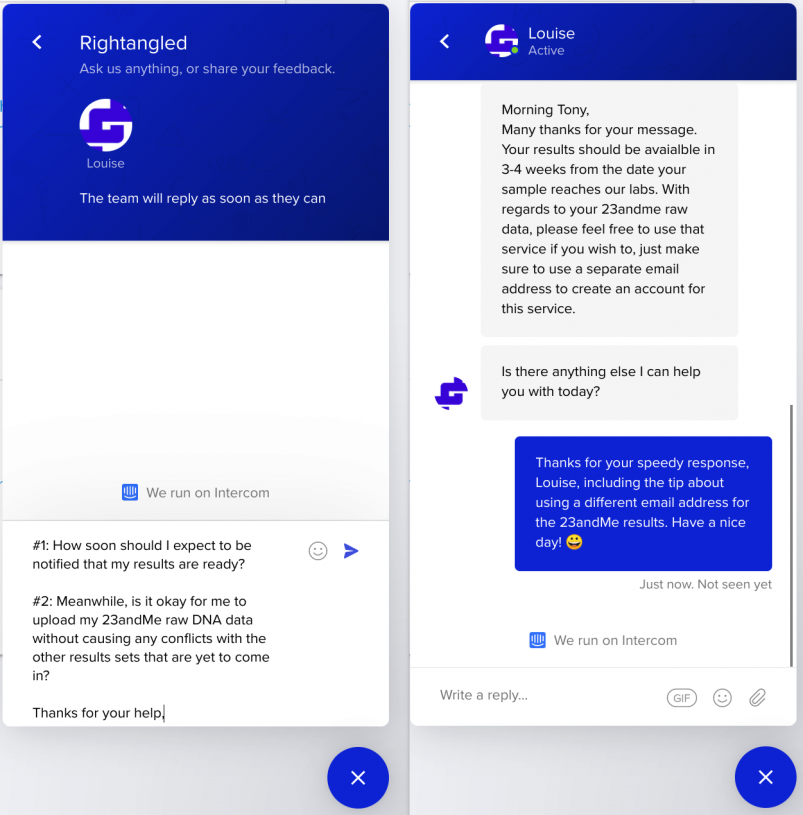 The agent said that:
I should expect to receive my results within three to four weeks of the lab receiving my sample
I would be best advised to access the 23andMe raw DNA data upload service using a different email address (again, it doesn't look like the website supports this feature anymore)
Around 11 days after sending in my sample, I was concerned that my dashboard was still showing "10% test completion – Registered kit and awaiting return to the lab." So I asked about it: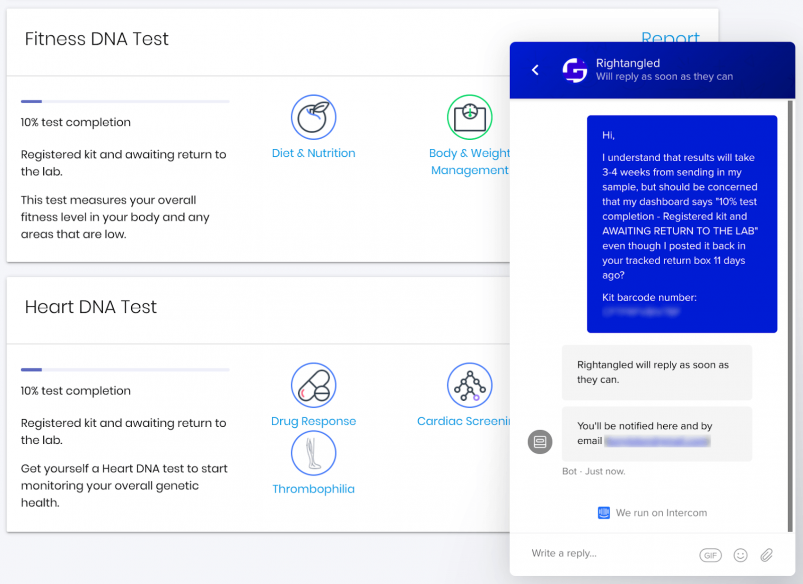 I never received a reply to this request but was pleased to see that the progress moved to "50% test completion – Your genes have been decoded," then "75% test completion – Results awaiting review by the specialist" over the next few days.
Beautifully Simple
Overall, I found everything about this DNA test to be beautifully simple. In many ways, Rightangled gets it right in terms of user experience. Both the website and test kit are intuitive and filled me with confidence. The results are visual and easy to understand. And, if you have questions, live chat support is easy to access.
My biggest complaint is that – depending on what you're looking for – things might be a little too simple. For example, if you are interested in more than just your cardiovascular health, it might make sense to purchase a health test from Vitagen-X. Or, if you feel like you need more specific direction regarding your diet and fitness, DNAfit could be a better choice for you.
That said, if you have specific concerns about your heart health, this test can provide a lot of helpful information. (With the Wellness Pro test, you can also get a lot more information for just a little bit more cash.) Plus, having oversight from a cardiologist – and the ability to reach out to them with any questions or concerns – could be incredibly valuable.
FAQ
How accurate is the test?
Rightangled has partnered with ISO-accredited labs, all of which adhere to the highest standards of quality assurance. According to the company, this technology is at least 99.8% accurate, and measures are taken to limit the risk of both false-positive and false-negative results. After your report is run, it is also reviewed by a partner specialist who will include a personalized assessment and action plan.
What countries is the test available in?
According to the website, the tests are available worldwide. When you are filling out shipping information on the checkout page, you'll find that all countries are listed in a dropdown menu.
How much does the test cost?
Rightangled's tests are competitively priced. You can purchase any of the individual tests (e.g., Heart DNA Test, Intolerance Test, Fitness DNA Test) for around $100. If you decide to purchase Wellness Pro, which combines the reports from all of the previously aforementioned tests, you'll pay a bit more – but not much.
How does this test compare to better–known competitors?
Rightangled contains similar reports to what you would get from DNAfit. The difference is that Rightangled is a fair amount cheaper – but also less detailed.
Other competitors, like Everlywell offer very specific tests instead of bundled packages; these also use blood samples to report on your body's current levels as opposed to genetic predispositions.
Who should consider taking this test?
You should consider taking a test from Rightangled if you are particularly interested in your cardiovascular health (as opposed to a wider range of genetic conditions). You might also want to consider the Wellness Pro package if you have been struggling to meet and maintain your fitness goals. The eight-week personalized training plan combines factors from your lifestyle with your genetics, which can improve your chances of success.